How to Change a Flat Tire: The Right Tools and the Right Method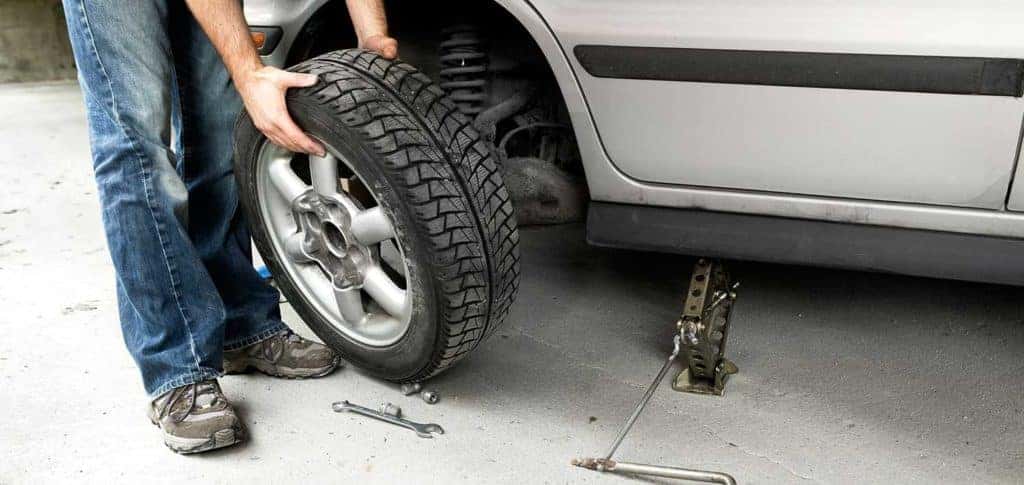 How to change a flat tire – it's knowledge all Elkhorn area drivers should have, and yet many don't. That's okay. Gregg Young Chevrolet, Inc. can help you with this and other questions. Let's learn about:
Tire Changing Tools
Firstly, have these items in your car:
Jack
Lug Wrench
Fully Inflated Spare Tire
Owner's Manual
Misplaced them? Never issued them in the first place? Pick up new ones, making sure the spare is regularly inflated to your manufacturer's recommended PSI.
You'll also want the following on-hand:
Flashlight
Rain Poncho
2″x6" Wood to Secure the Jack
Gloves
Wheel Wedges
Tire Changing Instructions
Okay, now onto the good stuff:
Bring your vehicle to a safe location. Slow down and pick out a level, straight stretch of road with a wide shoulder
Turn on your hazard lights before getting out.
Apply the parking brake, even on level ground, to prevent rolling.
Apply the wheel wedges. They go in front of the front tires when you're changing a rear tire or behind the rear tires when you're changing at the front.
Place the jack beneath the frame. Look for a section of exposed metal, and follow the instructions in your owner's manual.
Place a small cut of 2×6" wood beneath the jack to prevent it settling, then start to lift. Remember never to place any part of your body under the vehicle.
Unscrew the lug nuts – once loose, it's easy to unscrew them by hand.
Remove the flat by gripping the treads and pulling gently towards you. Set it on its side to prevent rolling.
Mount the spare on the lug nuts, then tighten them by hand until they are all on.
Lower the vehicle slightly and tighten the lug nuts with a wrench
Bring the vehicle to the ground
Replace the hubcap. It may not fit – if so, stow it with your flat.
Check the pressure of the spare to make sure it's safe to drive on.
Drive to a Fremont area service center. Remember, spares are meant to be temporary and shouldn't be driven at high speeds.
Omaha Car Service Coupons
9,000 Mile Optimum Synthetic Blend Oil Change
$130.95
Up to 6 qts of Synthetic Blend Oil
Extended Life Motor Oil Additive
Engine Performance Restoration 44K Fuel Conditioner
Warranties Select Engine and Fuel System Parts Up To $6000
Oil Filter
4 Tire Rotation
Multi-Point Inspection
Interior Vacuum
Exterior Car Wash
Gregg Young Chevrolet, Inc.
17750 Burt St, Omaha, NE
Service: 855-973-8042
9,000 Mile Optimum Synthetic Blend Oil Change
$130.95
Up to 6 qts of Synthetic Blend Oil
Extended Life Motor Oil Additive
Engine Performance Restoration 44K Fuel Conditioner
Warranties Select Engine and Fuel System Parts Up To $6000
Oil Filter
4 Tire Rotation
Multi-Point Inspection
Interior Vacuum
Exterior Car Wash
More from Our Omaha Service Center
The 2019 Chevrolet Silverado is one of the industry's best performing pickup trucks. It's also one of the easiest to personalize. Wahoo and Elkhorn drivers can customize the new Chevrolet Silverado 1500 or Heavy Duty with OEM parts and accessories for General Motors vehicles. Check out some of the Chevy parts and accessories below. Silverado…

When it comes to auto maintenance and repairs near Waterloo, you can always count on the professionals at Gregg Young Chevrolet Norwalk, where you'll find both an auto body shop and auto repair shop. But what is an auto body shop, and how does it compare to an auto repair shop? What do Auto Body…

Schedule Windshield Repair Unfortunately, accidents happen. If you're in need of windshield chip or crack repair near Waterloo, count on the expert staff at the Gregg Young Chevrolet Omaha auto body shop to help you replace your windshield glass. Windshield repair cost depends on the extent and type of damage, but we have repair costs…