Body Shop FAQs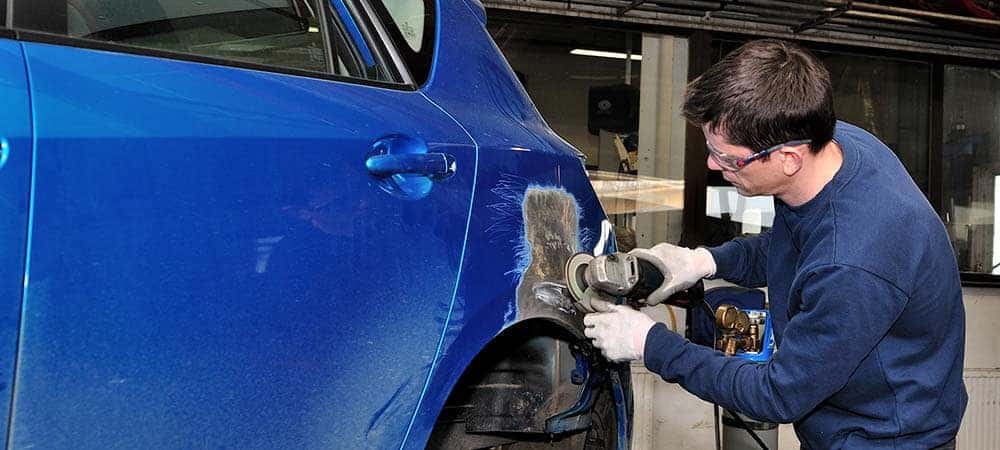 Gregg Young Chevrolet Omaha is your source for auto body repairs near Council Bluffs, but you might have some questions you need answered before you come in. Our team of auto body professionals is here to help with answers to a number of frequently asked questions:
What kind of auto body repairs are covered at your center?
At the Gregg Young Chevrolet Omaha auto body shop, we handle a comprehensive selection of auto body repairs, including but not limited to body and paint work, auto detailing, and custom kits.
Should I get multiple estimates?
You are welcome to get as many estimates as you would like, but Gregg Young Chevrolet Omaha offers competitive rates for auto body repairs, as well as the benefit of being a manufacturer body shop with proven credentials.
If the accident wasn't my fault, do I have to file a claim?
If the other driver was at fault for the accident and their insurance company admits fault, then it is a good idea for you to collect your claim money from them.
Do you have rental cars available while my car is being worked on?
Yes, we have rental cars available for you to get around while we work on your auto body repairs. Additionally, usually the insurance company will cover the cost of a rental car.
What if you find more damage while working on the repairs?
It's very common to find more auto body and other damages on your vehicle while we're working on repairs. If we find anything, we will contact the insurance company to make sure they will pay for any additional repairs as well.
Get Professional Auto Body Repairs Near Waterloo!
The team of auto body professionals at Gregg Young Chevrolet Omaha are here to help you out with a comprehensive selection of auto body repair services. So schedule an auto body repair appointment at our auto body shop in Omaha.
Before & After
---
More from the Gregg Young Chevy Omaha Body Shop
The 2019 Chevrolet Silverado is one of the industry's best performing pickup trucks. It's also one of the easiest to personalize. Wahoo and Elkhorn drivers can customize the new Chevrolet Silverado 1500 or Heavy Duty with OEM parts and accessories for General Motors vehicles. Check out some of the Chevy parts and accessories below. Silverado…

When it comes to auto maintenance and repairs near Waterloo, you can always count on the professionals at Gregg Young Chevrolet Norwalk, where you'll find both an auto body shop and auto repair shop. But what is an auto body shop, and how does it compare to an auto repair shop? What do Auto Body…

Schedule Windshield Repair Unfortunately, accidents happen. If you're in need of windshield chip or crack repair near Waterloo, count on the expert staff at the Gregg Young Chevrolet Omaha auto body shop to help you replace your windshield glass. Windshield repair cost depends on the extent and type of damage, but we have repair costs…
---
Omaha Service and Body Shop Specials
9,000 Mile Optimum Synthetic Blend Oil Change
$130.95
Up to 6 qts of Synthetic Blend Oil
Extended Life Motor Oil Additive
Engine Performance Restoration 44K Fuel Conditioner
Warranties Select Engine and Fuel System Parts Up To $6000
Oil Filter
4 Tire Rotation
Multi-Point Inspection
Interior Vacuum
Exterior Car Wash
Gregg Young Chevrolet, Inc.
17750 Burt St, Omaha, NE
Service: 855-973-8042
9,000 Mile Optimum Synthetic Blend Oil Change
$130.95
Up to 6 qts of Synthetic Blend Oil
Extended Life Motor Oil Additive
Engine Performance Restoration 44K Fuel Conditioner
Warranties Select Engine and Fuel System Parts Up To $6000
Oil Filter
4 Tire Rotation
Multi-Point Inspection
Interior Vacuum
Exterior Car Wash