Oil Change in Omaha, NE
When a Chevrolet car, truck, van, or SUV needs an oil change service, rest assured that we provide unrivaled quality and value with every oil change that we provide at Gregg Young Chevrolet of Omaha. We are always ready to provide any Chevrolet make or model with the oil change service explicitly designed for your vehicle. Every Oil Change that we provide is backed by Chevrolet quality as an automotive industry leader for over 100 years. Your vehicle's next Oil Change Service is easily accessible at Gregg Young Chevrolet of Omaha, NE near Council Bluffs, IA.
---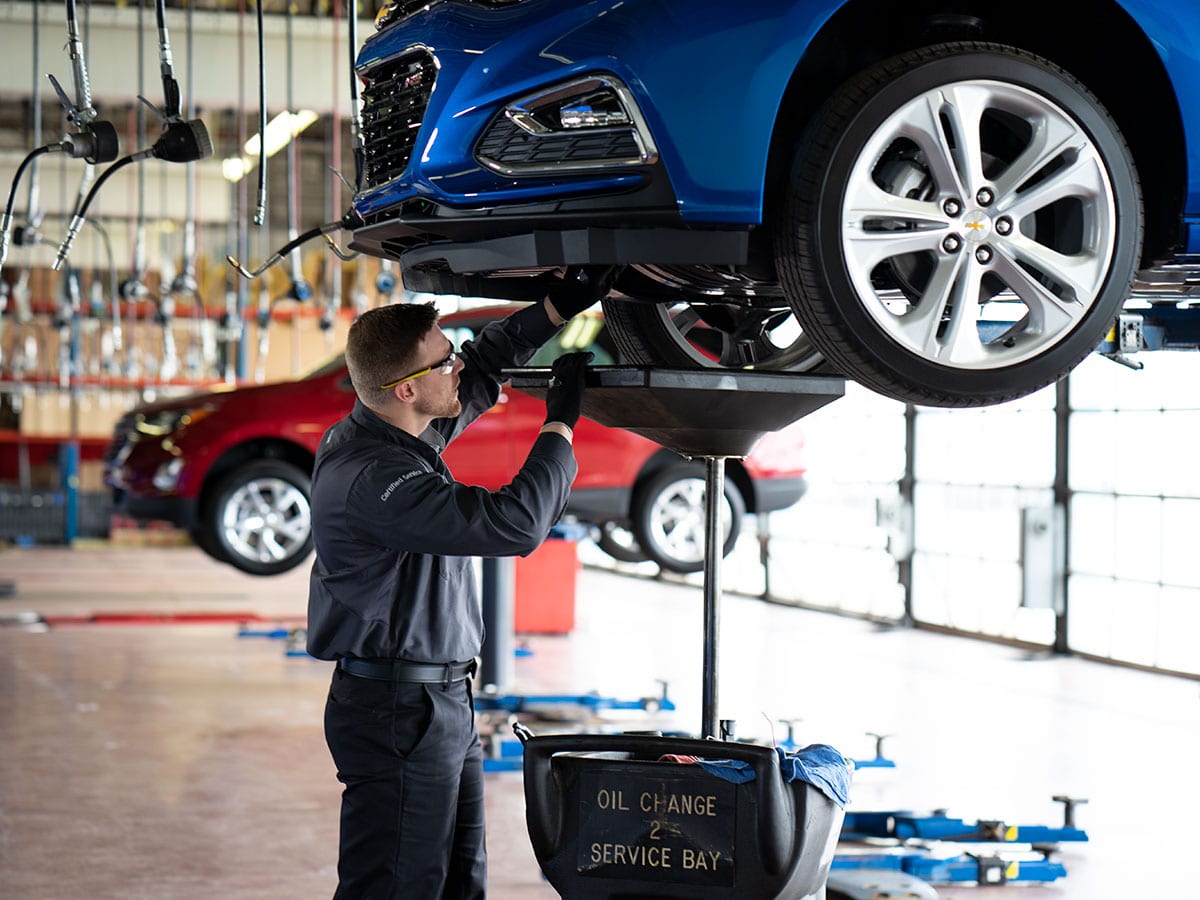 Symptoms of Broken Down Motor Oil
Oil change light
Check engine light
Engine sounds louder than usual or has a knocking noise
Exhaust smoke is darker than before
The engine is running hotter than normal or overheats
Types of Oil Changes We Offer
At Gregg Young Chevrolet of Omaha, we are a one-stop-shop for all Chevy makes and models in the Omaha region. No matter what Chevrolet vehicle you own, rest assured that we have just the right Oil Change Service for your car, truck, van, or SUV. We provide these types of Chevrolet Oil Changes:
Conventional – also called Regular or Standard oil, Conventional Oil can be considered the foundation of every engine oil type; Conventional Oil requires refinement from crude oil before it is ready to lubricate the engine as expected. Conventional Oil is merely crude oil that has been refined, given additives and detergents to help it maximize viscosity, lubrication in extreme temperatures, and resist sludge formation for as long as possible.
Semi-Synthetic – also called Synthetic Blends, semi-synthetic requires more refinement than conventional but not as much as Full-Synthetic. Synthetic blends are usually more expensive than conventional but less costly than Full-Synthetic with performance as a lubricant and resistance of sludge formation in between as well.
Full-Synthetic – Full-Synthetic Oil retains its viscosity, resists sludge formation, and lubricates engine parts the best. Full-Synthetics require the most refinement and are entirely synthetic. They are slightly more costly, but also require less frequent change services. Full-Synthetic might be a good idea for your older-model vehicle that has accumulated over 75,000 miles given its proven engine-protecting benefits above and beyond conventional alternatives.
Diesel – explicitly for diesel engine Chevrolet vehicles, Diesel Oil is specially designed for lubricating diesel engine models.
Complimentary Service Amenities:
Enterprise Car Rental
Pro Shop Parts Boutique
Free Wifi
Corvette Cafe Restaurant
Workstations
Magazines & Newspapers