Why Choose OEM Chevy Parts over Aftermarket Parts in Omaha, NE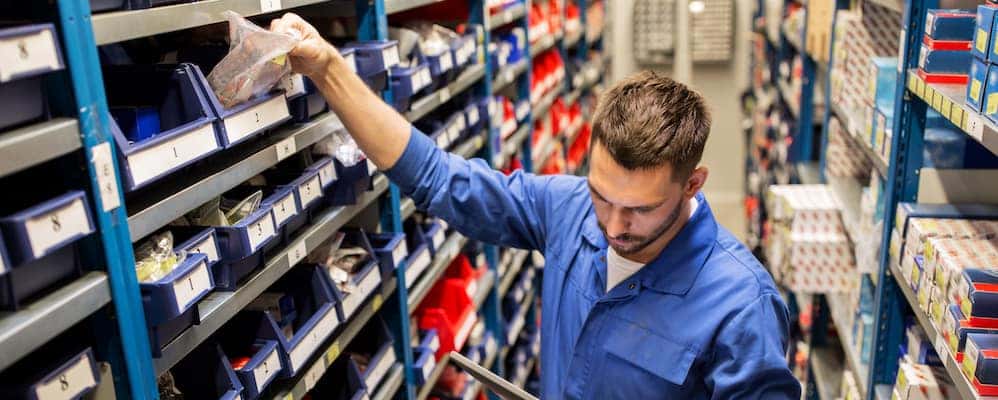 Need replacement parts for your Chevy model in Omaha, but not sure which one to buy? Learn more about why OEM parts are the best choice to fix or accessorize your Chevy Silverado below, and get in touch with us to order and apply the part you need near Wahoo.
What are OEM Parts?
OEM parts, or "original equipment manufacturer" parts, are made by the vehicle manufacturer. OEM Chevy auto parts are built using the same materials as any piece you may need to replace or enhance in your Chevy vehicle. OEM Chevy parts and GM parts are more expensive than aftermarket parts, but they offer greater reliability — meaning they're less likely to break down and are actually cheaper in the long run. Elkhorn and Fremont Chevrolet owners can learn more about the benefits of Chevrolet OEM parts vs. aftermarket parts below!
What are Aftermarket Parts?
Chevy doesn't produce aftermarket Chevy parts — aftermarket parts are manufactured by a third party, a company not related to Chevrolet. Generally, aftermarket auto parts are made to fit the specifications of a large variety of different auto makes, so they are built at a much higher volume than Chevy OEM parts. Although they're usually more affordable than OEM Chevy auto parts, they often don't fit as well as Chevy parts and could break down sooner. For this reason, it's usually best to avoid aftermarket parts.
Chevy OEM Parts vs. Aftermarket Parts
Here are a few more reasons to choose OEM Chevrolet parts over aftermarket parts (outside of the obvious quality differences):
Less Overwhelming Selection: If you're not a gearhead, the amount of choices in aftermarket parts can be overwhelming, and you may not know what is best for your Chevy. This means you are at a greater risk of choosing the wrong part. If you shop for Chevy OEM parts with a trusted expert, you'll get the appropriate part at a reasonable price.
Warranty Coverage: OEM parts are also cheaper because OEM GM parts and OEM Chevy parts are covered with a Limited Parts Warranty. In fact, adding an aftermarket part to your Chevy could jeopardize your warranty coverage if it can be proven that the third-party part caused damage to your vehicle.
The bottom line is that OEM Chevy parts are made to last as long as the original part you're replacing, while aftermarket parts are not.
Shop for Chevrolet OEM Parts Near La Vista
If you're searching for a dealer near Wahoo or Papillion that sells Chevrolet parts and accessories, look no further than Gregg Young Chevrolet, Inc.. Find a wide selection of OEM parts, including shocks, brake pads, and performance parts. Contact us to speak with customer service and order parts or accessories online, or visit us in Omaha to browse our parts specials and Chevy models in person.
---
Chevy Maintenance and Parts Coupons
9,000 Mile Optimum Synthetic Blend Oil Change
$130.95
Up to 6 qts of Synthetic Blend Oil
Extended Life Motor Oil Additive
Engine Performance Restoration 44K Fuel Conditioner
Warranties Select Engine and Fuel System Parts Up To $6000
Oil Filter
4 Tire Rotation
Multi-Point Inspection
Interior Vacuum
Exterior Car Wash
Gregg Young Chevrolet, Inc.
17750 Burt St, Omaha, NE
Service: (402) 763-8283
9,000 Mile Optimum Synthetic Blend Oil Change
$130.95
Up to 6 qts of Synthetic Blend Oil
Extended Life Motor Oil Additive
Engine Performance Restoration 44K Fuel Conditioner
Warranties Select Engine and Fuel System Parts Up To $6000
Oil Filter
4 Tire Rotation
Multi-Point Inspection
Interior Vacuum
Exterior Car Wash
---
Latest from Our Omaha Body Shop
When it comes to auto maintenance and repairs near Waterloo, you can always count on the professionals at Gregg Young Chevrolet Norwalk, where you'll find both an auto body shop and auto repair shop. But what is an auto body shop, and how does it compare to an auto repair shop? What do Auto Body…

Schedule Windshield Repair Unfortunately, accidents happen. If you're in need of windshield chip or crack repair near Waterloo, count on the expert staff at the Gregg Young Chevrolet Omaha auto body shop to help you replace your windshield glass. Windshield repair cost depends on the extent and type of damage, but we have repair costs…

Schedule Body Shop Appointment If your car has been nicked, it's possible you can repair the minor dent at home. If the dent is in a place where you can just push it back out manually, that's probably the easiest solution. Yet sometimes it needs a more robust process like heating it up or buying…