How Often Should I Rotate My Tires?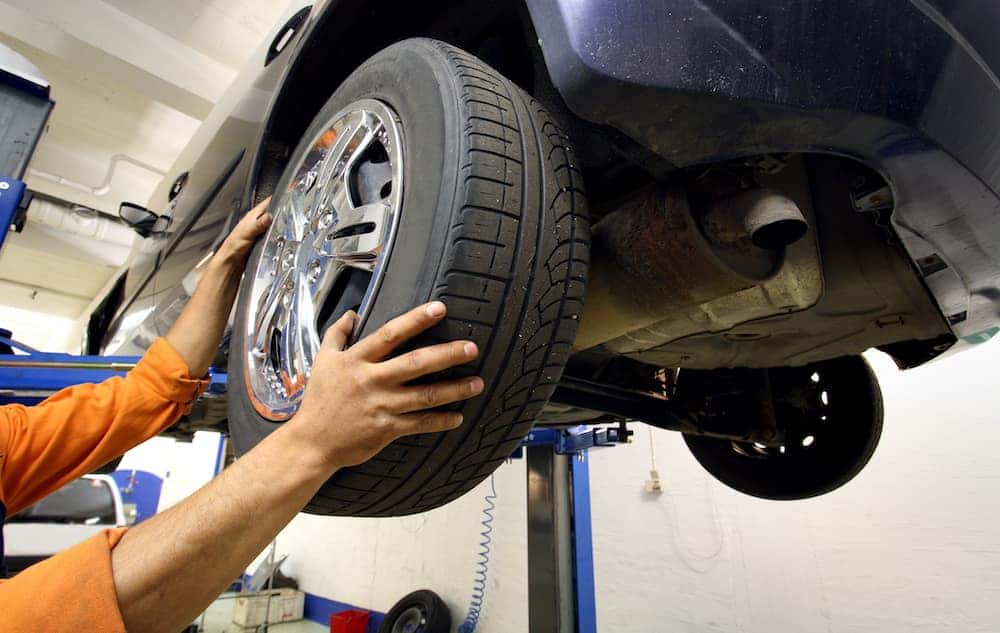 Tires usually require a rotation once the tread variance exceeds 2/32 of an inch. To avoid an excessive variance in tire tread, most vehicles require you to rotate the tires every 5,000 to 7,500 miles. For exact figures on your model, always check with your owner's manual.
When to Rotate Tires Based on Drivetrain
On front-wheel drive vehicles, power is sent to the front tires, while a rear-wheel drive car sends power to the rear tires. The set of tires that receive more engine power will wear faster than the other set. In general, for FWD or RWD cars, you'll need a tire rotation every 5,000 to 7,500 miles. If you're performing a tire rotation yourself on a FWD or RWD vehicle, keep these tire rotation tips in mind:
For a FWD Vehicle: Flip sides when moving the rear tires. This means your rear right tire should go to the front left. Then, when you're moving the front tires to the back, keep them on the same side.
For a RWD Vehicle: Invert the process above for a RWD vehicle. Keep the rear tires on the same side moving forward, and then flip sides when moving the front tires to the back.
Remember, your driving habits will affect how often you need to rotate your tires.
Tire Rotation Tips for an AWD Vehicle
With all-wheel-drive vehicles every tire wears differently and at different rates. Consequently, experts recommend rotating the tires on AWD vehicles every 3,000 to 5,000 miles. As always, take a look at your owner's manual for the exact rate for your specific vehicle.
Why Is it Important to Rotate Tires?
Beyond extending the life of your tires, regular tire rotation provides improved traction on slippery roads, creates less noise while you're driving, and relieves unnecessary stress on the drivetrain.
To be better prepared for hazardous weather around Wahoo, keep tire rotations as part of your maintenance plan. Remember that properly caring for your tires doesn't mean they'll last forever. If you're in need of replacement, our tire center can help you out!
Ask the Technicians at Gregg Young Chevy Omaha Other Tire FAQs
For any information regarding tire care, contact us today. Our certified technicians are always standing by to help answer your questions and solve your problems.
---
More Auto Service Tips From Gregg Young Chevy Omaha
The 2019 Chevrolet Silverado is one of the industry's best performing pickup trucks. It's also one of the easiest to personalize. Omaha and Elkhorn drivers can customize the new Chevrolet Silverado 1500 or Heavy Duty with OEM parts and accessories for General Motors vehicles. Check out some of the Chevy parts and accessories below. Silverado…

When it comes to auto maintenance and repairs near Waterloo, you can always count on the professionals at Gregg Young Chevrolet Norwalk, where you'll find both an auto body shop and auto repair shop. But what is an auto body shop, and how does it compare to an auto repair shop? What do Auto Body…

Schedule Windshield Repair Unfortunately, accidents happen. If you're in need of windshield chip or crack repair near Waterloo, count on the expert staff at the Gregg Young Chevrolet Omaha auto body shop to help you replace your windshield glass. Windshield repair cost depends on the extent and type of damage, but we have repair costs…
---
Tire Rotation and Repair Coupons Omaha
Oil Change Special
Only $59.95
ACDelco dexos1 Full Synthetic $59.95
8-Quart Oil Change
4-Tire Rotation
Multi-Point Vehicle Inspection
Gregg Young Chevy Omaha
17750 Burt St., Omaha, NE
Service: 800-951-5357
Oil Change Special
Only $59.95
Expires:
ACDelco dexos1 Full Synthetic $59.95
8-Quart Oil Change
4-Tire Rotation
Multi-Point Vehicle Inspection
Oil Change Special
Only $49.95
ACDelco dexos1 Full Synthetic $49.95
6-Quart Oil Change
4-Tire Rotation
Multi-Point Vehicle Inspection
Gregg Young Chevy Omaha
17750 Burt St., Omaha, NE
Service: 800-951-5357
Oil Change Special
Only $49.95
Expires:
ACDelco dexos1 Full Synthetic $49.95
6-Quart Oil Change
4-Tire Rotation
Multi-Point Vehicle Inspection