2017 Chevrolet Spark vs. 2017 Mitsubishi Mirage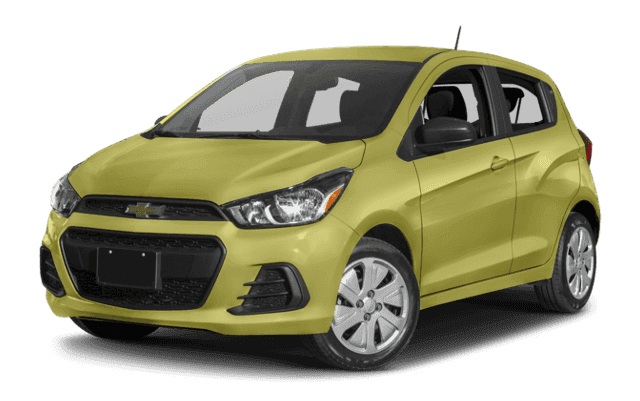 2017 Chevrolet Spark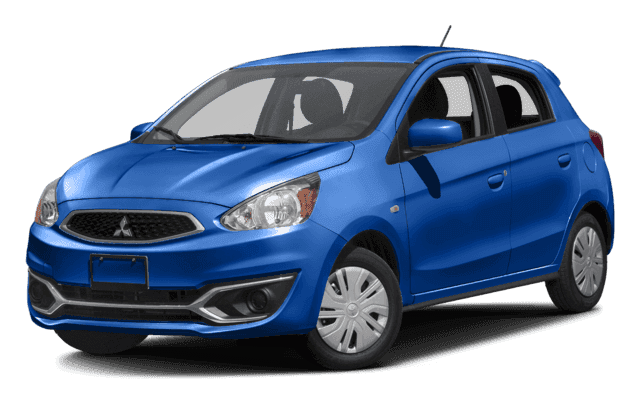 2017 Mitsubishi Mirage
You don't have to cut corners with a small car when you choose the 2017 Chevrolet Spark. Available now to drivers of Norwalk, it's loaded with tech and fun options to keep you zooming around the city in style. Put next to another contender in the compact car segment, the 2017 Mitsubishi Mirage, it stands out for its generous accommodations. Compare the two below, then come in from West Des Moines to take the Spark on a test drive today!
Performance
The 2017 Chevrolet Spark is powered by a 1.4L I4 engine that develops 98 hp and 94 lb.-ft. of torque. You'll see excellent fuel efficiency with just enough pep with this model, as you'll get up to 38 mpg/highway and 29 mpg/city.
The 2017 Mitsubishi Mirage is equipped with a less capable engine. It runs with a 1.2L inline 3-cylinder engine that develops up to 78 hp and 74 lb.-ft. of torque, leaving you lagging when you're out on the road. You'll appreciate the extra kick behind the new Chevrolet Spark when you get going from a red light or accelerate on the highway.
Technology
We think our Norwalk drivers will appreciate the tech-savvy interior of the 2017 Chevrolet Spark, designed with entertainment in mind. A touchscreen display lets you hook up your phone to stream audio and connect to select social apps, while a high-speed internet connection is offered with a 4G LTE Wi-Fi hotspot connection that lets you save on your data as you sync your smart devices on the go. Both you and your friends will take advantage of this feature for all of your commutes and vacations.
The 2017 Mitsubishi Mirage has a touchscreen display available for you to set your audio controls and more, but there is no available internet hotspot option, meaning if you stream your audio or need to get connected on the go, it'll be through your own resources or data plan, leaving your device drained if you use audio streaming apps or others for your entertainment.
Exterior
The new Chevrolet Spark has been designed to make city zipping easy, thanks to its compact size that lets you pull into tight parking spots and make fewer trips to the gas station. It sits on unique 15-inch alloy wheels and comes in ten fun colors to choose from. Roof rails are available so you can stack up more cargo on top for weekend trips with friends. Daytime running lamps are also included on the unique front fascia for added visibility in foggy weather.
The 2017 Mitsubishi Mirage sits on 14-inch alloy wheels, a little smaller than those of the Chevrolet Spark. Additionally, there are less color options that also lack the spunk. There are no additional roof rails, meaning you'll always have to rely on interior cargo space, and daytime running lamps aren't offered on this model, either.
Safety
Your safety is a priority with Chevrolet, which is why the 2017 Chevrolet Spark offers so many safety features. You'll be equipped with an anti-lock braking system, Hill Start Assist, a tire pressure monitor, electronic stability control, and traction control system. Furthermore, OnStar includes systems like Automatic Crash Notification, Emergency Services Notification, Roadside Assistance, and much more.
The new Mitsubishi Mirage offers many of the same safety technologies, but it lacks in a comparable service like OnStar, meaning you'll have to depend on others on the road or your own telecommunication to reach emergency services in the event that you need them.
Pricing
When it comes to purchasing your next fuel-friendly car for commutes, your budget is obviously an important factor when narrowing down your choices. The 2017 Chevrolet Spark starts at $13,000 MSRP, a surprisingly low price tag for a fun car that gives you a bevy of options to accommodate your friends around the city.
The 2017 Mitsubishi is equally priced, with an MSRP starting at $12,995 MSRP, but while this might sound good, you'll be missing out on the extra features and fun that the 2017 Chevrolet Spark offers with the same monthly payment, meaning you'll be getting much less value.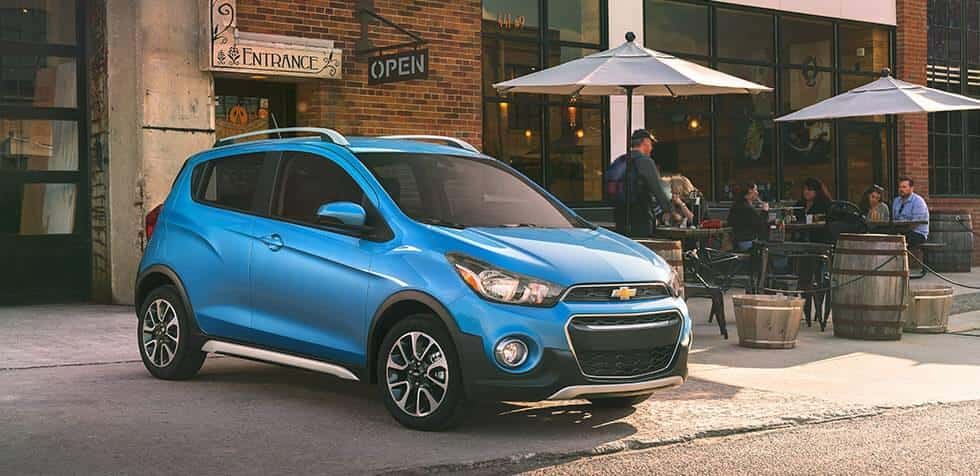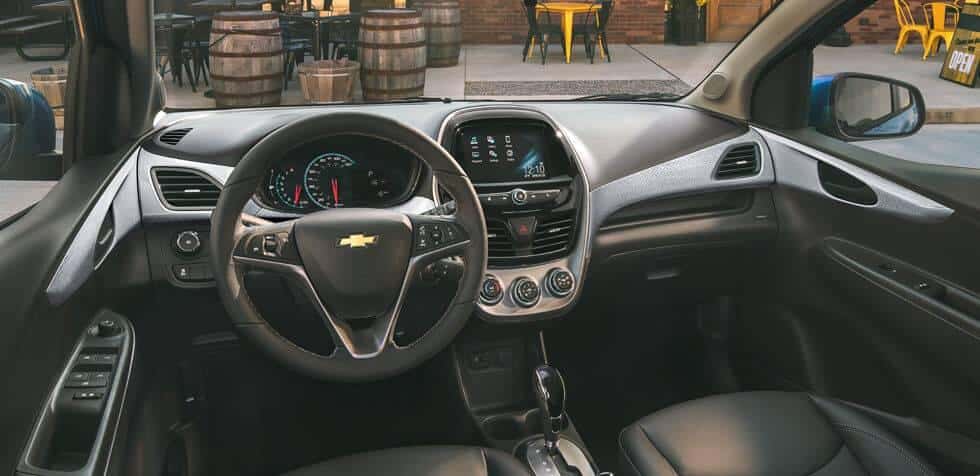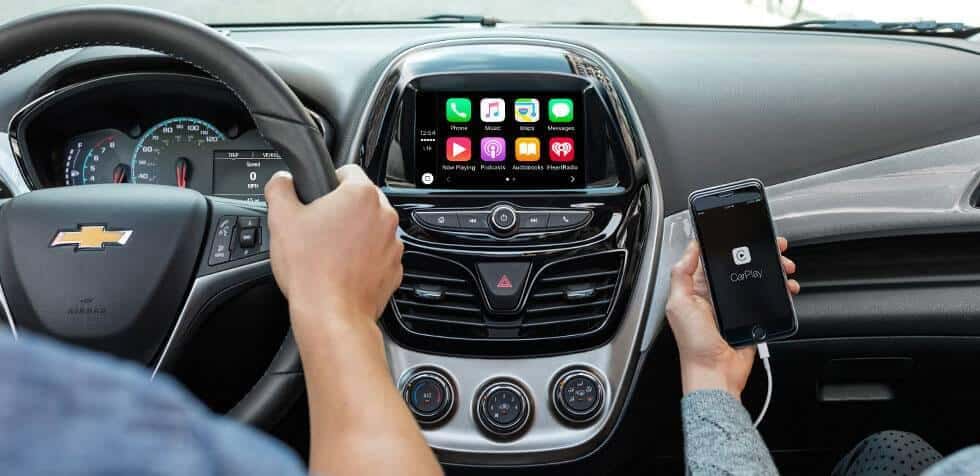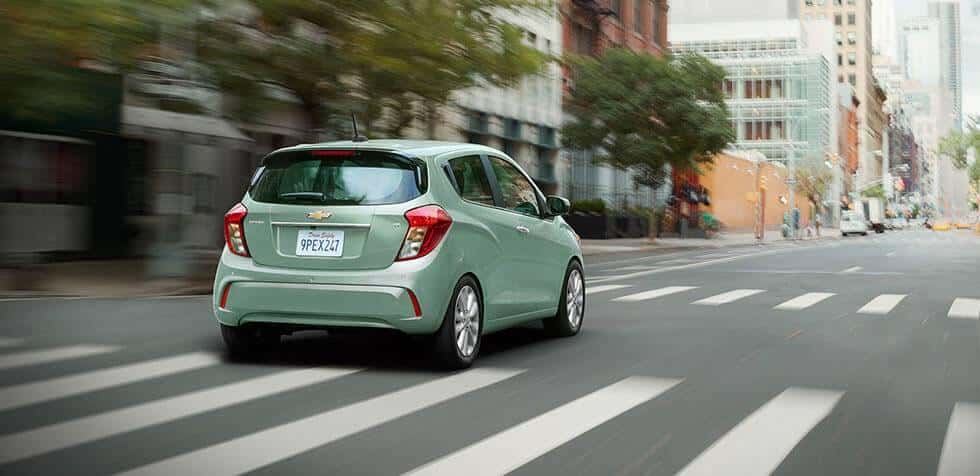 Jump in a 2017 Chevrolet Spark to See Why Drivers Prefer it to the 2017 Mitsubishi Mirage
Meet us at Gregg Young Chevrolet of Norwalk to see how the 2017 Chevrolet Spark beats the 2017 Mitsubishi Mirage today. You'll find our showroom at 17750 Burt St. in Omaha, NE, just south of West Des Moines. Make an appointment with a sales specialist by giving us a call at 800-951-5257, or leave a message online to have us give you a call with more information.