2017 Chevrolet Malibu Safety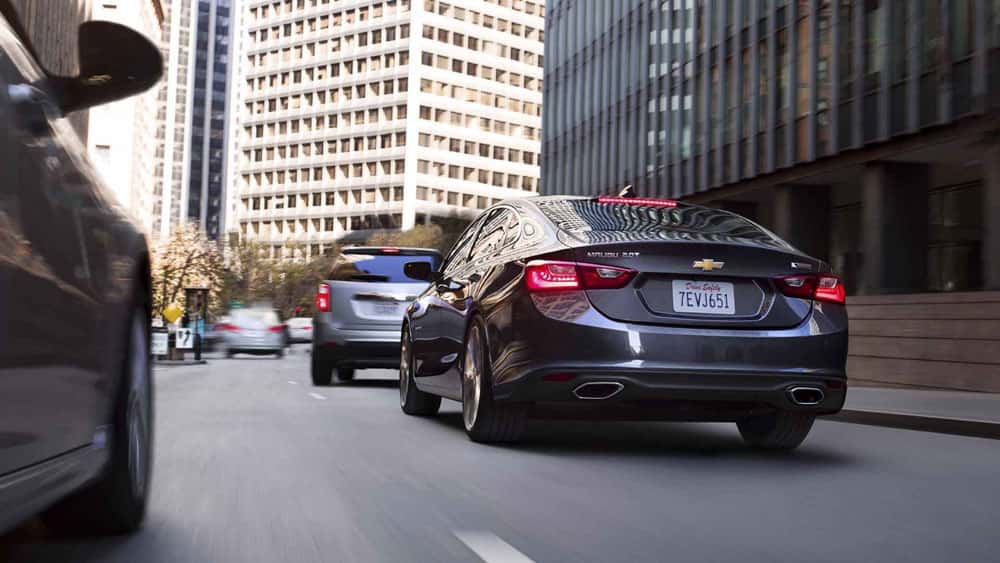 Keep your peace of mind on the Omaha roads with the expansive 2017 Chevrolet Malibu safety suite. You'll be able to drive confidently with these advanced safety technologies looking over your shoulder and helping you react quickly. See what's available for your new 2017 Malibu.
Driver Assistance Technologies
These safety features help you stay focused on the road and look over your shoulder for what you can't see:
Front Parking Assist: Using sensors on your front bumper, this system detects objects ahead of you and gives you a timely alert if you go too close.
Rear Park Assist: Like the Front Parking Assist, this system uses a series of sensors to identify when obstacles are too close for comfort.
Lane Keep Assist: In the event you unexpectedly veer from the center of your lane, this system alerts you so you can adjust your steering accordingly. If needed, it can redirect you to the center lane in a timely fashion.
Lane Change Alert: When you're trying to change lanes, this system looks over your shoulder to make sure the road is clear for you to move. It will give you an alert whenever other vehicles are in your path.
Side Blind Zone Alert: To make sure you're completely covered, this side system specifically looks in those dangerous blind spots so you can travel confidently on the highway.
Rear Cross Traffic Alert: When other vehicles are coming towards you on either side, you'll see an alert. It's the perfect answer to busy parking lots and driveways on busy streets.
Adaptive Cruise Control: Set your ideal cruising speed, and this system will do the rest of the work. It adjusts your speed to maintain a safe distance between you and the cars ahead.
Intelligent Braking
These braking systems keep an eye on the road around you and will act quickly in the event of an incident:
Front Pedestrian Braking: When a collision involving a pedestrian is likely, this system jumps into action to bring your new 2017 Malibu to a timely stop.
Low Speed Forward Automatic Braking: Many systems don't work below certain speeds, and that's why the Malibu engineers went the extra mile for your safety.
Teen Drive System
If you have a teenage driver, you can help encourage positive driving habits with these safety features:
In-Vehicle Report Card: Get an update of how your teen was driving and if any of the driver assistance features were triggered.
Active Safety Features: Make sure your more adventurous teens keep the safety and driver assistance features engaged whenever they're driving your 2017 Malibu.
Music Volume: To ensure your younger drivers aren't too distracted with their favorite playlists, set a maximum driving volume. Also, mute the audio whenever someone in the front row doesn't have a seatbelt on.
Preselected Speeds: When your teens go over your preselected speed limit, your 2017 Malibu alerts the driver with audio and visual cues, so he or she can safely decelerate.
Safety Details and Extras
To make sure you're fully covered on the Council Bluffs roadways, these safety extras are part of the refreshed 2017 Malibu line:
Rear Vision Camera: When you shift into reverse, your system uses a rear camera to give you a live view of everything happening behind you. You'll see the feed streamed to your center console.
OnStar Advisor: If your airbags deploy, interior Malibu sensors will automatically alert OnStar Advisor. The system can contact emergency services and see if you require assistance. If you don't respond, the system uses GPS to find your location and sends help immediately.
Comprehensive Air Bag System: With this system, airbags are deployed no matter the direction of the collision. Additionally, a high-strength steel cage protects the integrity of the Malibu's structure.
Rear Seat Reminder: If a second row door is opened and closed just before or during your next excursion, the system prompts you to check the back seat with an information center message and five chimes.
myChevrolet Mobile App: Check your Malibu's diagnostics, lock your doors and set parking reminders remotely with this system. Stay connected to your Malibu no matter where you are.
Test Drive the 2017 Chevy Malibu at Gregg Young Chevrolet
Are you ready to test out the expansive 2017 Chevrolet Malibu Safety features firsthand? Come on down to Gregg Young Chevrolet located at 17750 Burt St in Omaha and take a test drive in your new 2017 Malibu. If you have any questions or want to make an appointment, give us a call at (855) 973-8042 or fill out our contact form.