Chevrolet Equips Nova with a New Four-Cylinder Crate Engine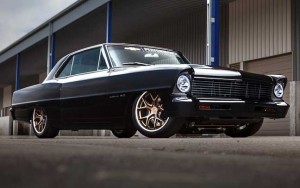 Chevrolet awed show-goers at the 2014 SEMA auto show with a turbocharged 2.0-liter four-cylinder crate engine that was made for classic car builders to have another engine option to choose from. The company decided to showcase this engine within a 1967 Nova at the 2015 SEMA auto show. The Nova originally was fitted with a V-8 engine that made it one of the quickest vehicles on the road when it was introduced. This particular Nova gets the power of 272 ponies from the all-aluminum turbo-four engine and has the ability to sprint to 60 mph in 6.2 seconds. Chevrolet couldn't stop at just replacing the engine under the hood. The 1967 Nova is also fitted with an aluminum grille, narrow bumpers, a fresh set of wheels, and an updated suspension system. Gregg Young Chevrolet in Omaha is ready to see this classic vehicle, as well as the 20 other Chevrolet concept cars that are making their way to the SEMA auto show.
#ChevroletNebraska
#GYChevrolet
#NebraskaNice
Gregg Young Chevrolet
17750 Burt St.
Omaha, Nebraska 68118
Phone: (402) 671-0375